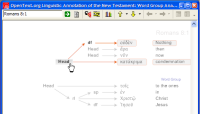 Last week, I posted an article about "Word Groups" in the OpenText.org Syntactic Annotation. I promised some follow-up; and now it's time for that.
There are obvious uses for this level of annotation in the realm of searching, but what about in just reading the text? Or in working through a passage exegetically?
The good news is that the visualization (graph) supports most operations you're used to performing from a standard morphologically tagged Greek NT in Logos Bible Software. This article is about some of those options.