On December 20, 2004, there was a fire in the restaurant next door. It was around six hours between the time the fire started and when it finally set off the smoke alarms on our side of the building. The result was that the restaurant was completely destroyed; everything was smoked thoroughly. The partial second floor had to be demolished and even the brick walls had to be soda-blasted to remove the odor. A third of our offices were evacuated and carpets, books, and computers had to be thoroughly cleaned.
The restaurant relocated around the corner and Logos took the opportunity to create additional office space that could connect to our existing offices.
For ten months we endured the sounds (and smells!) of demolition and construction on the other side of a very thin wall. But today it is all worth it, because we are finally able to move in.
From the back, at the top of the old second floor. Skylight is above and right.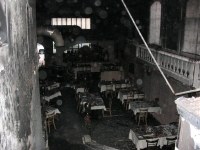 From the front, towards the back and skylight.

From the back of the new second floor at nearly the same position as the first photo.