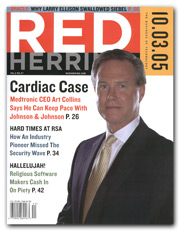 The issue of Red Herring that hits newsstands today includes a feature article on religious software, with Logos receiving the lion's share of their coverage of Bible software.
Red Herring is a national print magazine that reports on the business of technology; it's read by technology company execs and Fortune 1000 execs, with a subscriber base of around 45,000.
The article is not yet posted at RedHerring.com but the October 3 issue is available at Barnes & Noble and Borders. Here are a couple of excerpts:
God is getting many more clicks these days, powering up a niche software segment…

What seems clear is that more Americans are using PCs as a medium to God. Bob Pritchett, founder of Logos Bible Software, saw this coming nearly 15 years ago.

…Today, Logos has 5,000 titles and its products accounted for 65 percent of dollar sales in the top 10 Bible Reference Software Category titles in 2003, according to Packaged Facts. Last year, Logos had revenues of $8.9 million.

The company's pitch is simple: There is no higher purpose for your computer than using it for Bible study. Its goal is to replace every Bible with CDs.

"We are out there to take market share from the books that people have [spent] years accumulating," says Mr. Pritchett, whose customers are largely pastors and seminary students.
I'm pretty sure Bob didn't say that we want to replace every Bible with CDs (see our stated mission). Had this reporter done the interview in person rather than by phone she would have seen the heavy-laden bookcases in Bob's office and known better.
But I think it's safe to say that we'd love to put Logos Bible Software on the computer of every serious student of Scripture.
One quote that the magazine got dead-on was this:
"I don't believe in luck," says Mr. Pritchett, "and I am quite certain that the success we have seen at Logos Bible Software is not due to my own brilliance, but rather to God's choosing to use us to accomplish His purposes."
Amen.