One of the most exciting events we attend every year is the national meeting of Evangelical Theological Society and Society of Biblical Literature held in mid-November, this year in greater Philadelphia, PA.
We'll have a booth at each meeting where you can meet a number of Logos staff. It's an exciting time for us to meet and hear from the academic crowd and show off new products and features that are in the works or recently shipped.
Beyond just stopping by the booth, this year you can also attend half a dozen or more sessions that relate to Logos Bible Software! Some of the sessions are presented by Logos staff, but most are presented by scholars who are using our software or developing new databases for Logos.
I'll start with ETS, since it's held first, then follow up with a post or two on SBL sessions (found here and here).
At ETS, you'll want to hit the Thursday afternoon session on Bible software, moderated by Dr. Coakley, Moody Graduate School. At that session, the emphasis is on using software tools such as Logos to teach syntax and discourse-level analysis. The new tools and databases we're producing open up new approaches to teaching (and learning!) the biblical languages. The focus can now move beyond the word level to consider textual units as a whole. Just as morphologically-tagged texts were an essential tool for yesterday's seminarian, syntactically-tagged texts are the indispensible tool for the next generation of students.
At this session, you'll hear from three Moody profs and our own Rick Brannan and Eli Evans. Details follow…

Highlighted titles are those that relate to Logos.
---
Thursday, November 17, 2:10-4:30
Open Session: Biblical Languages
Place: Radisson Mt. Laurel
Theme: Bible Software
James Coakley, Moderator; Moody Graduate School
2:10 – 2:50
Beyond the Word Level–Using Tagged Databases in Biblical Language Software to Teach Syntax and Discourse
David Woodall, James Coakley, and Julius Wong Loi Sing (Moody Graduate School)





This paper and presentation will demonstrate how tagged databases within biblical language software (specifically Logos) can be used in the classroom to teach syntax and discourse related issues to students of Greek and Hebrew who are preparing for the ministry. The presentation will model how Bible language software can be incorporated as a means to teach biblical language students structures and syntax beyond the word and phrase level to clause and discourse level meaning. This method will help the student to approach biblical language texts from the "top down" and give them direction as to determining possible salience and prominence in the text.
3:00 – 3:40
New Developments in Computer Tools for Teaching and Research in Hebrew and Greek Syntax
Rick Brannan and Eli Evans, Logos Research Systems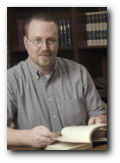 For some time, scholarship has been privileged to have access to electronic morphological databases of the Hebrew Bible and the New Testament. However, the restrictions of morphological tagging are plain to those who regularly use these databases. While being able to compare forms and repetition across texts, one lacks a means of comparing the syntactical relationships of words and clauses across corpora. The authors of this paper are intimately involved in the development of four new databases (two for Hebrew, two for Greek) that will allow students and scholars to search at the syntactic and even discourse levels. This paper details the procedure used in developing these databases and graphically illustrates the end result.
3:50 – 4:30
Exegetical Software in the Classroom: We Have Come a Long Way Since Codices and Papyri
Joseph Fleener, Calvary Baptist Theological Seminary