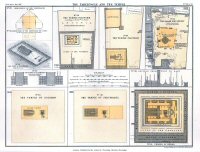 At a used bookstore in London I found a Bible atlas from 1900 with beautiful colored engravings. I have seen individual atlas pages in old map shops sold for more than this book cost, and it had 11 full page engravings. Few things hurt me like cutting up a book, but these clean, neat 8 x 10 inch pages simply begged to be framed and hung on the wall for everyone to appreciate.
After a quick check on the Internet to ensure that the book wasn't too rare, we carefully cut out the pages and scanned them at high resolution before framing them. You will see them on the wall if you visit Logos in the future, and you can download this diagram of the tabernacle and the temple right now. (The file is 2.85 MB and the image is 3232 x 2464 pixels.)
The whole set of corrected images (cropped, rotated, color adjusted and scaled to 50%) are available in an 8 MB file.