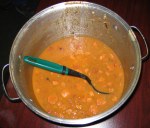 The 2005 Soup Cookoff was a success! We had 16 different kinds of soup, all lined up and ready for our soup-slurping pleasure.
We have a tradition of voting on all of the soups, and giving awards to the top three vote-getters. Here they are:
Congratulations to new Logos Soup King Jerry Godfrey (in Logos Technical Support) for his awesome soup, "Grandma Approved". I know I could taste that extra sweetness that only a Grandma can add … or was that the bacon?
Landon Norton, who works in Logos Ministry Relations, and his lovely wife Krissy turned in the second place effort, "Pottage of Pollo Parousia". It was most delectable.
The third place slot is occupied by yours truly, the author of this post, Rick Brannan. I made a little soup I like to call "Smakelijke Split Pea Soup". My Grandma, who was from Holland, used the word smakelijke to describe anything food-wise that was really, really tasty. Needless to say, the stuff that came out of her kitchen was always smakelijke! Apparently my soup was too.
All in all, it was a very good time. Next up: Logos Bake Off! It's on November 4. Now I need to dust off my bakin' skills so I can make something delectable for that one.
If you're interested in some photos of the event, check out the extended portion of the post below.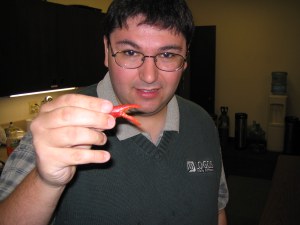 Eli Evans made gumbo; here he is showing us part of the one of the crawfish (crayfish, crawdad, mudbug, whatever) that made his soup gumbo-licious.
---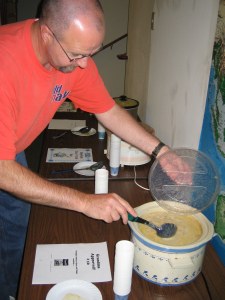 Jerry Godfrey stirring his soon-to-be-champion soup.
---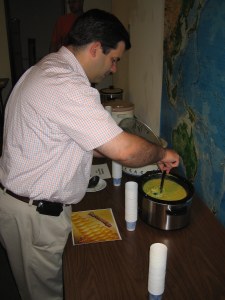 Bob Pritchett stirs his entry, Corn Harvest.
---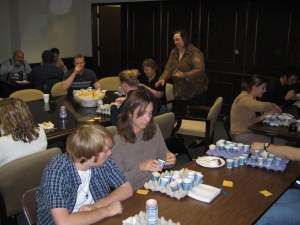 The Logos Conference room turns into a dining hall during cook offs. Here various employees are enjoying all sorts of sumptuous soups.
---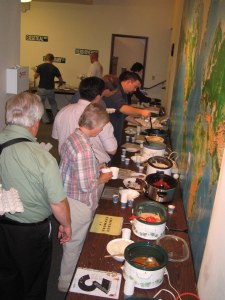 The soup gauntlet; folks filling up little cups with savory soupy goodness to enjoy.