Today's post is from Morris Proctor, certified and authorized trainer for Logos Bible Software. Morris has trained thousands of Logos users at his two-day Camp Logos seminars and provides many training materials.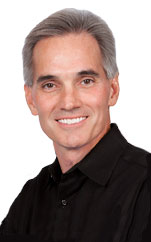 I am often asked at Camp Logos something like this:
What's the difference between a Logos book and an Amazon Kindle book? Why should I buy a book in the Logos format as opposed to another electronic format?
Great questions. Various differences elevate Logos books above other formats, but perhaps none more so than the level of tagging in our Logos books.
Rather than explain what I mean, I'll offer a specific example:
Open a Bible to Luke 9:61.
Open the resource Moral Foundations of Life by Oswald Chambers.
Right click on any word in Luke 9:61. (1)
From the right click menu select Reference Luke 9:61 | Search all open resources. (2)(3)
In the Search panel click By Title to arrange the search hits according to the title of the book. (4)
Click the triangle icon to the left of Moral Foundations of Life to expand the search hits. (5)
Notice in the search hits of the resource, the characters Luke 9:61 do not exist, but the words Lord, I will follow Thee do. (6)
Click a search hit to open Moral Foundations of Life to that location. (7)
In the resource rest your cursor on the words Lord, I will follow Thee to see a preview of Luke 9:61 from your Preferred Bible.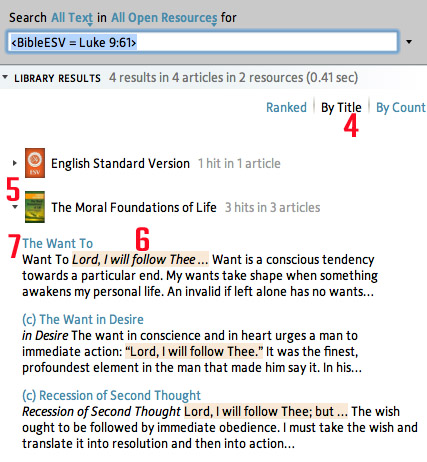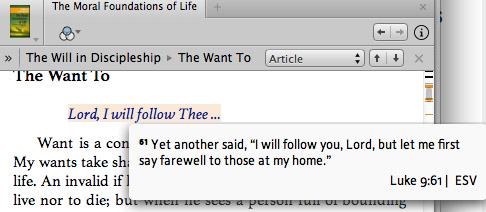 Here's the point I'm making with this example:
When we search our Logos books for Luke 9:61 the system will find Luke 9:61 or Lk 9:61 or verse 61 or Lord, I will follow Thee. Why? Because somehow the Logos book developers have tagged all of those as references to Luke 9:61!
So remember, when you're reading Logos books, you're reading multiple levels of tagging that are also networked with the rest of your Logos library!
What is your favorite feature of Logos books? Leave a comment and let us know!